K–5 personalized reading curriculum to accelerate literacy growth in your classroom
—
Boost Reading helps K–5 educators meet the needs of every reader with personalized literacy instruction based in the Science of Reading. Our efficacy data, measured by DIBELS® 8th Edition, shows that Boost Reading helped 26% more students reach benchmark than those not using the program. This Amplify reading curriculum fits into any learning model and provides actionable growth insights along the way.
Explore Boost Reading
"Your team has taken a weight off my shoulders and I am so grateful and can't thank you enough! My biggest concern during this time was how can I keep pushing my readers at their level—and giving them what they need—and Boost Reading solved that."
Jeanine
2nd-grade teacher, Chicago, IL
"This program is extremely engaging and interactive for each student. They begged to get on Boost Reading and they cried when it was time to log off! This program is a great addition to our curriculum."
Brittany
2nd grade teacher, Utah
"My students love the program, and they don't even realize they are learning some tough concepts. Their reading scores are improving even since the beginning of the year."
Amber
Junior High ELA teacher, California
Next-generation technology
Boost Reading is constantly adapting to tailor instruction and scaffold foundational skills for students, building proficiency one engaging activity at a time. Students will never get stuck in static practice activities.
Comprehensive skill coverage
The scope and sequence is based on the Science of Reading and includes explicit instruction in phonics, phonological awareness, comprehension, vocabulary, and all skills critical to fluent and confident reading.
Benchmark and growth assessments
Built-in benchmark assessments measure student proficiency at beginning-, middle-, and end-of-year, and Curioso Skill Scans measure monthly growth in students using the program without interrupting engagement.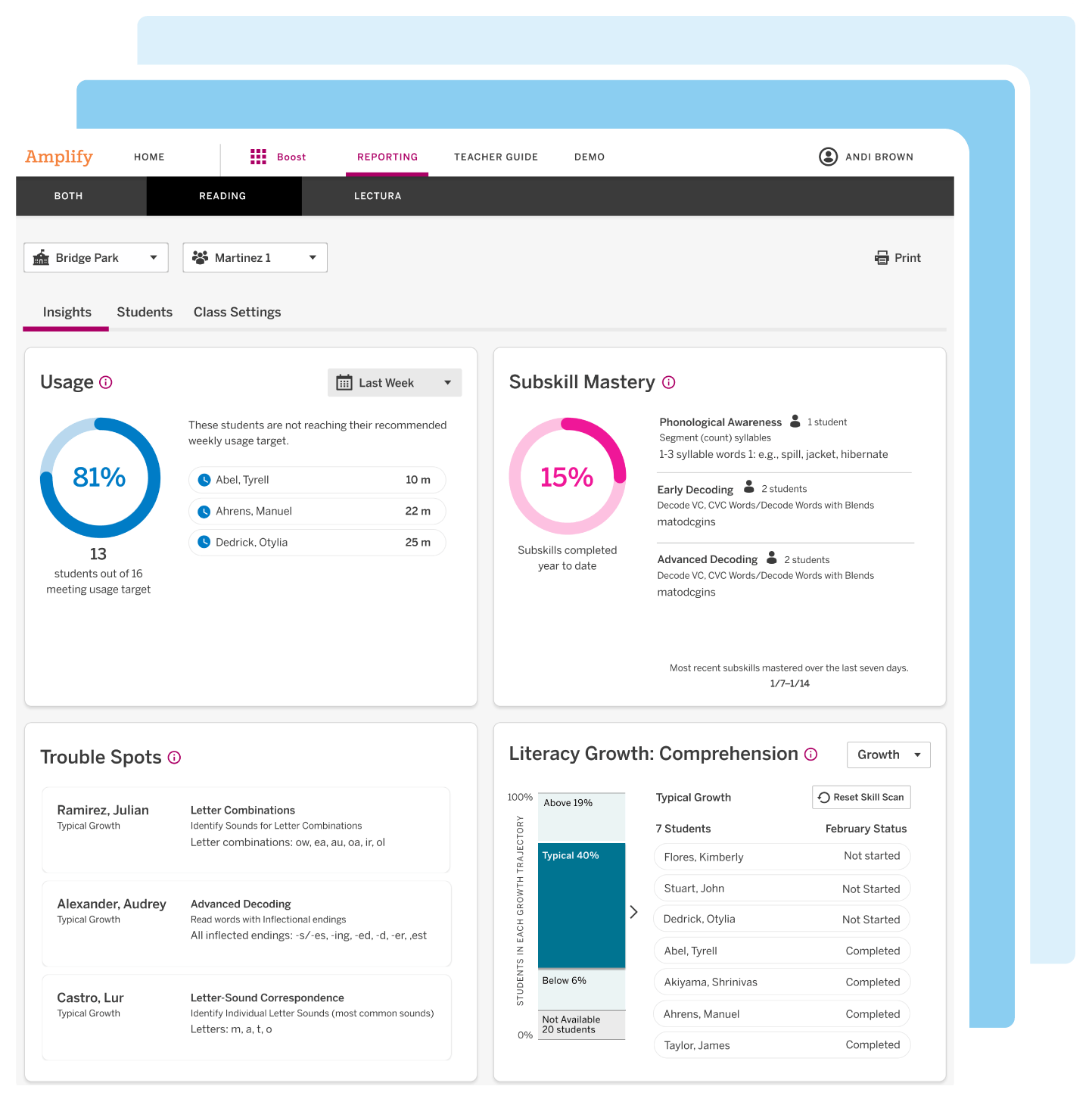 Easy-to-use growth and proficiency reports
Embedded assessments give teachers actionable insights into students' reading journeys. Visibility into performance gives teachers peace of mind that students are making meaningful progress in their literacy development.
Administrator and caregiver reports
Administrators and caregivers are welcomed into the student reading journey with data on program usage, reading progress, and skill mastery.
Research-based activities to reinforce skills
Boost Reading alerts educators to trouble spots students encounter in their skill development and offers additional K–5 literacy resources and lessons for teachers to address and fortify reading skills.
Explore more programs based on the Science of Reading.
—
All of the programs in our literacy suite are designed to support and complement each other. Learn more about our related programs: