Early literacy assessment & intervention, grounded in the Science of Reading
—
mCLASS is an all-in-one system for Science of Reading-based universal screening, dyslexia screening, and progress monitoring. Powered by DIBELS® 8th Edition, mCLASS helps you measure and strengthen the foundational skills that all students need to become confident readers.
Request a walkthrough
What educators say
"If you're trying to shift the balance and move into the Science of Reading, mCLASS is going to give you a great way to group kids by skill."
Angela
Lufkin Independent School District, Director of Early Childhood Education
What educators say
"Getting the human brain to read is very complex, and mCLASS has helped me problem-solve with my PLC and the strategies I'm using in the classroom."
Anne
Teacher, Wake County School District, Oakview Elementary School
What educators say
"One of the things that I think the data dashboard has really helped us to do is to work smarter not harder."
Natalie
Supervisor of Elementary Ed, K-12 Instructional Technology and K-12 ELL, Metuchen School District
Gold-standard DIBELS 8th Edition assessments
—
Developed in partnership with the University of Oregon, mCLASS DIBELS 8th Edition is founded on the strongest-ever research base for predicting reading proficiency, including identifying those at risk for dyslexia.
For more than 30 years, the University of Oregon has led the research behind DIBELS (Dynamic Indicators of Basic Early Literacy Skills). mCLASS is the only licensed digital provider of the evidence-based DIBELS 8th Edition assessment. See more of our research.
The mCLASS program includes quick assessments of critical reading skills, real-time reporting, and data-driven instructional recommendations.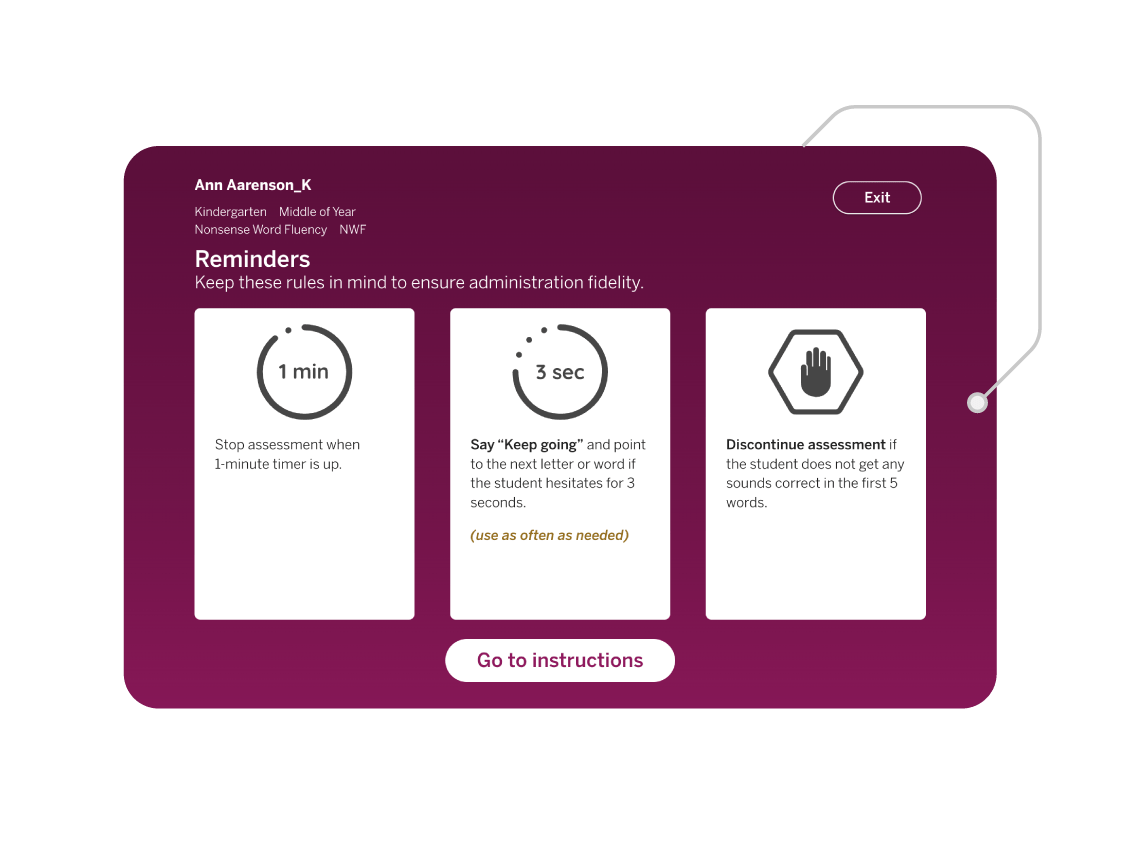 Efficient one-minute measures
DIBELS 8th Edition's predictive one-minute assessments of phonemic awareness, phonics, fluency, and comprehension are proven to identify risk as early as possible.
Phonological awareness
Alphabetic principle/phonics
Reading fluency
Reading accuracy
Reading comprehension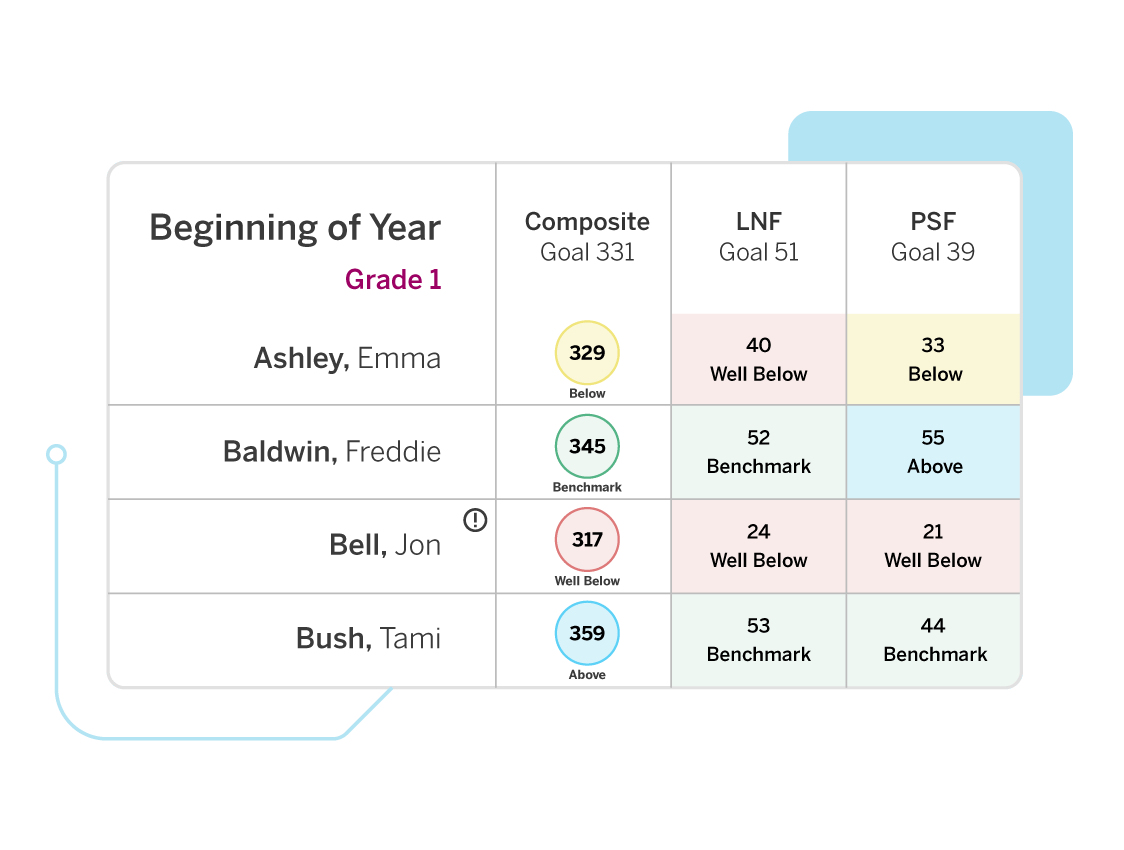 Early detection of dyslexia risk
With mCLASS, you can efficiently screen students and assess the full range of skills associated with dyslexia risk at the same time. mCLASS DIBELS 8th Edition and mCLASS Lectura are both validated as dyslexia screeners for English and Spanish, with additional Vocabulary, Spelling, RAN, and Language Comprehension measures available at no additional cost.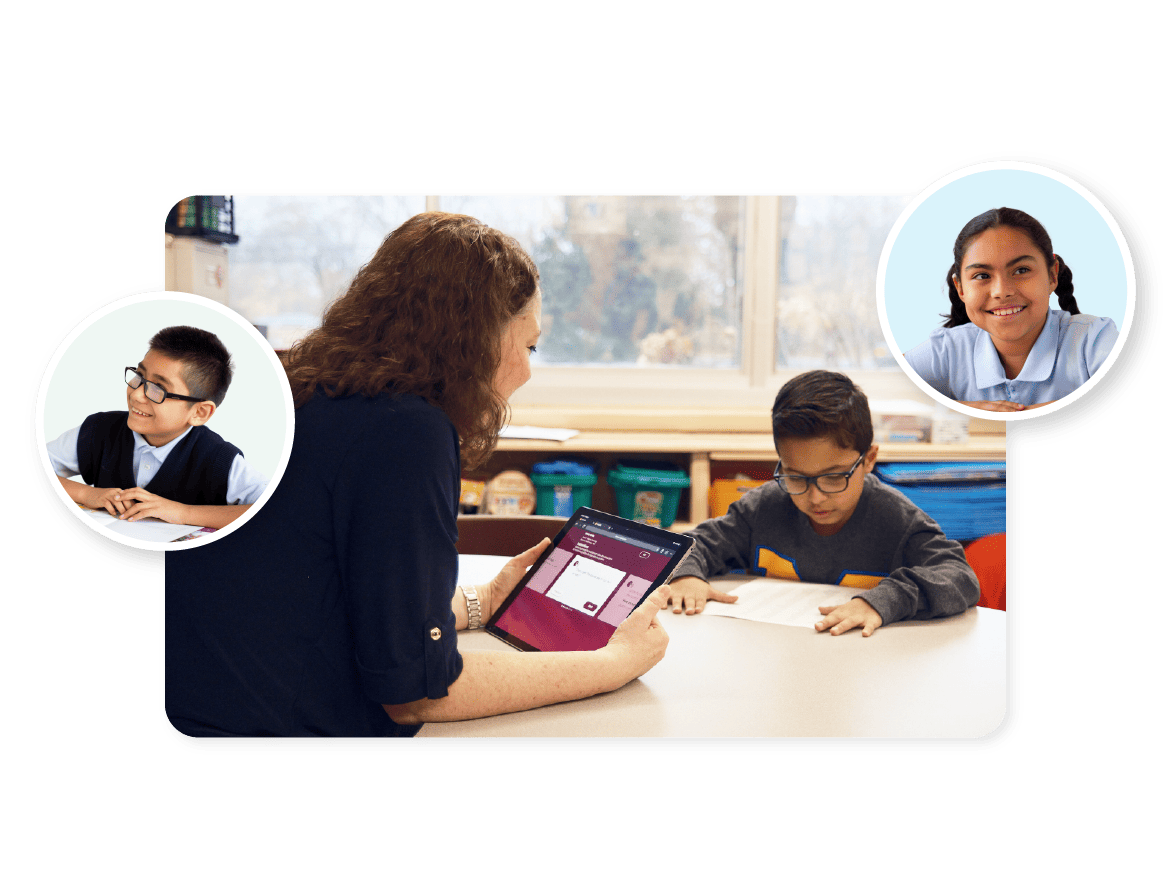 Progress monitoring and goal setting
To help you target the right skills and areas of instruction, mCLASS recommends progress-monitoring measures and automatically sets meaningful, attainable goals for each student. Our Zones of Growth goal setting framework examines your student's DIBELS scores to predict the rate of growth they need to reach end-of-year goals.
Automatic progress monitoring recommendations
Customizable goals
Semester and full-year growth reports
Differentiated instruction for all students
Our library of more than 500 evidence-based activities makes it easy to plan lessons that reinforce your core instruction. The embedded professional development supports consider the diverse language backgrounds of all students and provide cross-linguistic transfer and language variety guidance to inform phonological awareness instruction.
One-of-a-kind dual language reporting
When you use mCLASS DIBELS 8th Edition with mCLASS Lectura, you can identify and develop students' English and Spanish literacy skills regardless of your own Spanish-language proficiency. With the dual language report, you can see a side-by-side view of students' assessment results and receive instructional guidance based on the data.
Educator and caregiver reports
Easy-to-use reports, ranging from classroom-level to school- and district-wide, help you evaluate each student's reading skills over time and pinpoint exactly when a change in instruction is needed.
To reinforce learning at home, the Home Connect feature provides letters to caregivers about their child's reading development in English and Spanish, and includes activities for reinforcement at home or on the go.
Instructional alignment across all tiers
Amplify's early literacy system ensures that you have all the core, intervention, and personalized instruction you need to support each stage of a student's literacy journey. mCLASS data drives placement into mCLASS Intervention and Boost Reading personalized learning. It also recommends core instruction resources within Amplify CKLA core curriculum based on the skills in which students need additional practice.
Explore more programs based on the Science of Reading.
—
Our literacy programs are designed to support and complement each other. Learn more about our related programs.