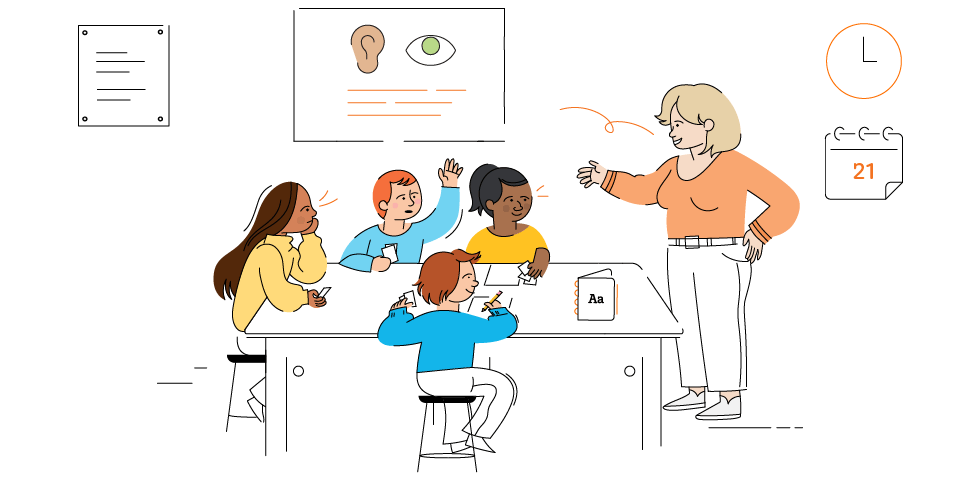 The Science of Reading is a big deal. We're serious when we say that literacy instruction based on the Science of Reading can change lives, and we're not the only ones.
Our friends at the Reading League say that instruction based on the Science of Reading "will elevate and transform every community, every nation, through the power of literacy."
So it stands to reason that shifting to a Science of Reading curriculum is a pretty big deal, too. It's not a light lift or a quick fix, and that makes total sense.
That's why we want to help you make the shift. And actually, shifts.
Any big change is best done gradually. That's why we've identified five key shifts in reading instruction that will set you on the path to transforming your classroom(s)—and your students' futures.
The science of teaching reading
But first, a quick refresher.
As you likely know, the Science of Reading refers to the pedagogy and practices proven by extensive research to effectively teach children how to read. Learning to read is not innate and must be taught—and evidence from numerous studies tells us how.
This is where a Science of Reading-based approach differs fundamentally from a balanced literacy approach.
Balanced literacy can have several meanings, but generally it refers to instruction that focuses on a combination of shared reading, guided reading, and independent reading, with foundational skills typically not emphasized and rarely taught systematically.
While researchers are always learning new things and updating their understanding about literacy instruction, we do now know more than ever about how the brain learns to read and what methods are most effective in teaching reading. The conclusion? With explicit, systematic instruction, the vast majority of students can learn to read at or near grade level. That instruction must include phonics, phonemic awareness, fluency, vocabulary, and comprehension, with an emphasis on background knowledge. There is a lot of information to learn. What's the best way to funnel it into daily classroom instruction? The answer is gradually.
Five incremental shifts from balanced literacy to the Science of Reading
Let's explore the changes you can make today as you explore and implement true Science of Reading instruction.
Use decodable readers, not leveled readers. Decodable readers—simple books that focus on the letter-sound correspondences that students have learned—support students in developing their phonics knowledge, rather than guessing or using picture cues. They support the systematic approach to instruction aligned with the Science of Reading, and they can even replace a workshop model with guided reading and leveled readers or predictable text.
Provide all students with dedicated, systematic phonics instruction, not mini-lessons or isolated phonics instruction. Effective phonics instruction—for every student—takes time and is deliberately sequenced. (At least 60 minutes a day is required for solid, systematic foundational skills development.) Phonics instruction should also be part of a comprehensive Science of Reading approach to literacy instruction (as part of your core curriculum) versus taught as part of a disconnected program.
Help students with phonics-based scaffolds, not three-cueing or word guessing. This is the part where learning to decode actually rewires students' brains for reading. It requires that you provide scaffolds and ask students to practice sounding it out rather than responding to context clues. Spend your time on this approach, rather than on reading predictable books that make it easy for kids to spot and memorize patterns.
To build comprehension skills, develop students' knowledge. The Science of Reading shows that literacy skills grow best on a foundation of knowledge. In other words, the more you know, the easier and faster you can understand texts you encounter in the world. Spend two or three weeks on focused literary, social studies, and science topics. The topics should build on each other and deepen understanding and vocabulary. This approach can replace studying disconnected topics and practicing comprehension skills (exercises where students find the main idea or determine the author's purpose) without attention to background knowledge.
Follow a clear instructional path, not a choose-your-own-adventure model. The Science of Reading supports a path over patchwork approach. A cohesive curriculum with explicit guidance is the most beneficial—yet overlooked—element of teaching reading effectively. It can replace an approach with multiple instructional pathways and moving parts, and it gives every student the support they need now without waiting for intervention.
Listen to the podcast now