The Desmos Math Curriculum and Desmos' free lesson-building tools and lessons—and the amazing teams behind them—are becoming part of Amplify! The world-renowned Desmos calculators will remain independent as part of a separate organization called Desmos Studio. Watch the video below featuring Christina Lee, Director of Project Management at Amplify, Fawn Nguyen, advisor on Amplify Math and Desmos user, and Dan Meyer, Director of Research at Desmos, to learn more.
Christina: Hi there, I'm Christina, the product manager at Amplify working on our K-12 math program. As you may have heard by now, Desmos classroom is joining Amplify. This includes all of teacher.desmos.com, including all of the free activities, the free activity builder, and the Desmos math curriculum. I have Fawn Nguyen and Dan Meyer here to answer a few questions about what's going on. Thank you both for joining! 
The first question is to you, Dan. One thing every Desmos user is going to want to know, is will the Desmos calculators and activities on teacher.desmos.com stay free to use forever?
Dan: Yes, period. It's an important question and an easy one to answer. Our commitment to users, from day one, has been whatever you can use for free. Now we're not going to make you pay for that. We know how hard it is as a teacher to build your practice on top of software that could disappear, and Amplify shares that commitment in a rock-solid way.
Christina: That's great to hear! Fawn, can you tell us a little bit about what you love about teacher.desmos.com? Why should a teacher who's never used check it out?
Fawn: How do I love teacher teacher.desmos.com? Let me count the ways! There's nothing like it out there that allows teachers to build lessons from scratch. What makes it unique? Well, there are lots of things that are unique about Desmos, but the screen-by-screen build is a standout for me. It allows me to interact with students prior to moving to the next screen. More importantly, the interaction among the students and the teacher dashboard is just brilliant; it lets me see the students' responses, especially the graphical ones in real-time. I feel like it's a built-in formative assessment into the lesson. And not surprisingly the structures from The Five Math Practices by Peg Smith are built-in there with the selecting, sequencing, and connecting.
Christina: Dan, why does it make sense for Amplify and Desmos to build one core math program for grades 6-12?
Dan: We've been traveling on separate parallel paths for a really long time and it makes a lot of sense for us to go farther together. For instance, we've both been building a core curriculum based on the Illustrative Mathematics curriculum. We have both been doing that using core Desmos technology. We both share an understanding of the complexity of teaching, the brilliance of student thinking, and so it makes sense for us to merge together. Desmos brings to the table a deep understanding of how technology can support student learning, and Amplify brings to the table an understanding of how systems support students at scale. So we bring a lot of commonalities and a lot of elements that both of us need from the other.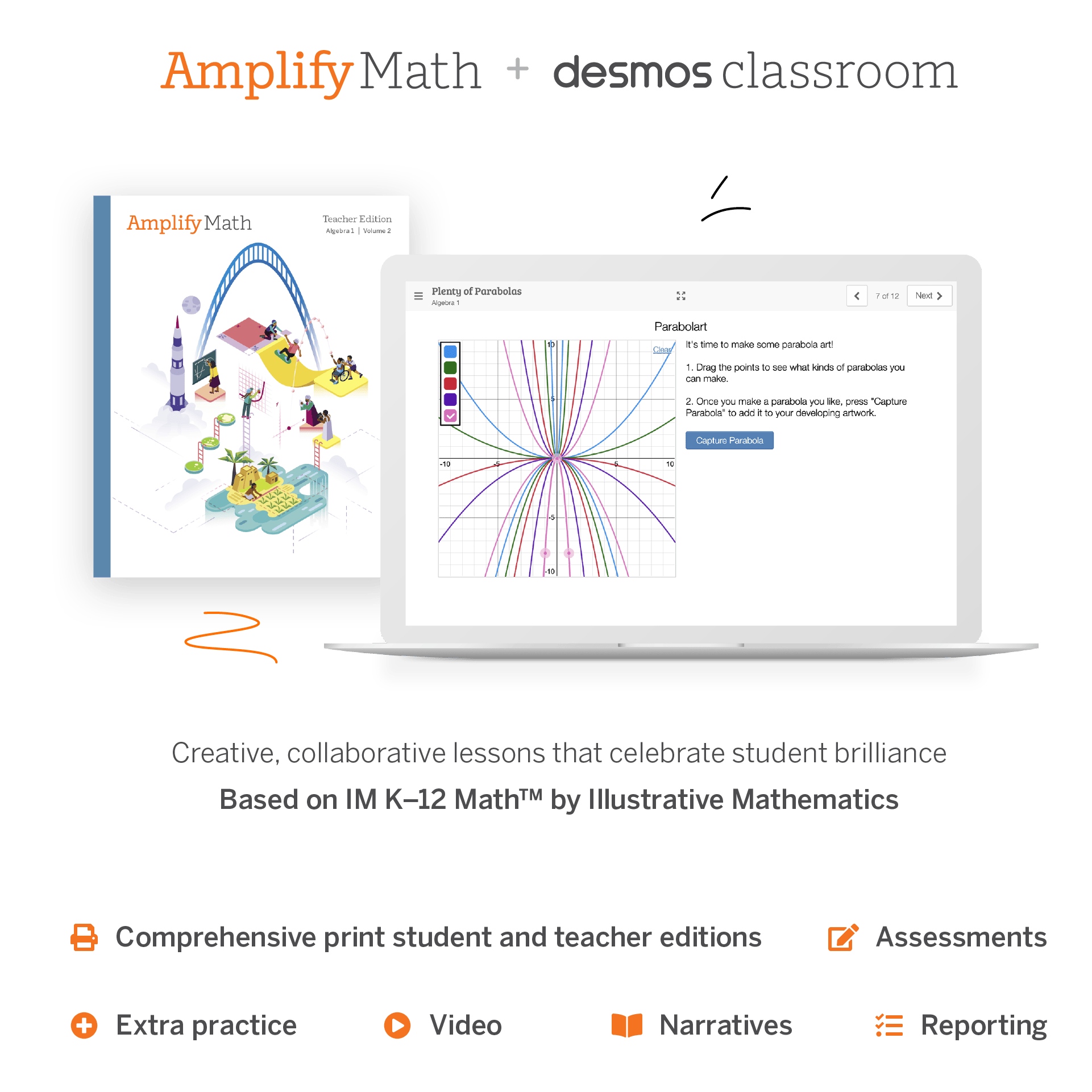 Christina: Fawn, you've been an advisor on the Amplify Math curriculum focused on problem-solving. In what ways do you think this knitting together of the two programs will help make teaching through problem-solving easier for teachers?
Fawn: I actually knit, Christina! So I really like your description of the partnership as knitting together the two programs. It's like taking two luxurious fibers, if I may say––ironically, luxurious but free, which describes literally nothing except Desmos––and weaving them together to create a gorgeous and functional design. I'm thinking about a sweater vest for Dan, he would look great in it! Amplify truly understands what problem-solving is. That it's non-routine and Amplify's math curriculum has many great activities. However, when this task can only live on a printed page it's hard for it to stay as a problem-solving task. What I mean is that it's hard for students to unsee things. So when it's on paper, you have to show all the cards and that ruins everything to me, frankly. But with Desmos again, with that screen-by-screen build and the pause and pace functions, they are designed so that the timing of teacher moves can happen. I think the timing is really important. And then problem-solving is about tinkering with ideas and testing conjectures, and Desmos is built for such. It invites you to play, it invites you to take risks, and it doesn't shame you when you make a mistake. So ultimately, Desmos brings school mathematics, which Amplify writes, closer to what doing mathematics looks like.
Christina: Dan, one final question for you. What's going to happen to the Desmos calculators now?
Dan: The Desmos calculators, like all the other technology as part of this deal, will remain free into perpetuity. They'll get spun over into a new corporation, a public benefit corporation called Desmos Studio, where they'll have a lot more focus from the people who work on it and a lot more resources to expand and develop and do that work.
Christina: Thank you, Dan. Thank you, Fawn. Thank you both. I'm really excited about this opportunity we have to build something special for teachers and students! For more information about Amplify Math and Desmos Classroom, and everything else we've got going on, please visit Amplify.com/futureofmath.