Welcome, Boost Reading families!
—
We're excited to welcome you and your student to the Boost Reading Caregiver Hub for the new school year. We've assembled the following resources and guides to help you support your child and enable them to have the most productive experience with our platform throughout the year.
What is Boost Reading?
Boost Reading is a literacy acceleration and remediation program based on the Science of Reading that uses adaptive technology to deliver personalized learning instruction for K–5 students. The engaging world of Boost Reading adapts to each unique reader, and your child can use the program during school hours and independently at home.
What is my role?
Ensuring your student can log in independently
We recommend that caregivers assist their child by helping them log in at home. 
Note that they may log in via Clever or another platform. Your child's teacher may also download and print a QR code or unique username and password that students can use to log in. Reach out to your child's teacher if you're unsure or did not receive login information.
Tips
Practice logging in with your student consistently until they can log in independently.

Keep their login information in a single place so they know where to go if they forget it!
Giving students the time and space to play independently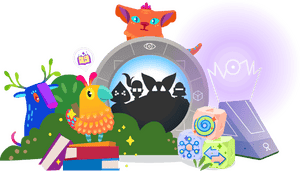 Get your child set up to use Boost Reading at home by making sure they have a set of headphones and a quiet place to play. Boost Reading is personalized to your child's needs, so you don't need to assist them with their learning. Once they can log in, they're ready to start using the program. 
Some students will begin with a placement activity that helps the program match them to the best content. To ensure the most accurate placement, it's important that students complete each activity independently. It's always helpful to encourage your student to have fun and do their best!
We recommend reviewing this Protecting Kids Online article by the Federal Trade Commission addressing digital safety.
Joining in on the fun!
Within the program, each student has a digital companion called a Curioso. Print these Curioso Coloring Pages so your student can decorate their own printed Curioso!
How to get help
We're here to help you!
Have a question about Boost Reading? 
Visit our help library to search for articles with answers to your program questions. 
For additional support, contact your child's teacher.
Frequently asked questions for caregivers
How often should my child use Boost Reading and/or Boost Lectura?
How can I help my child if they are struggling with a game?