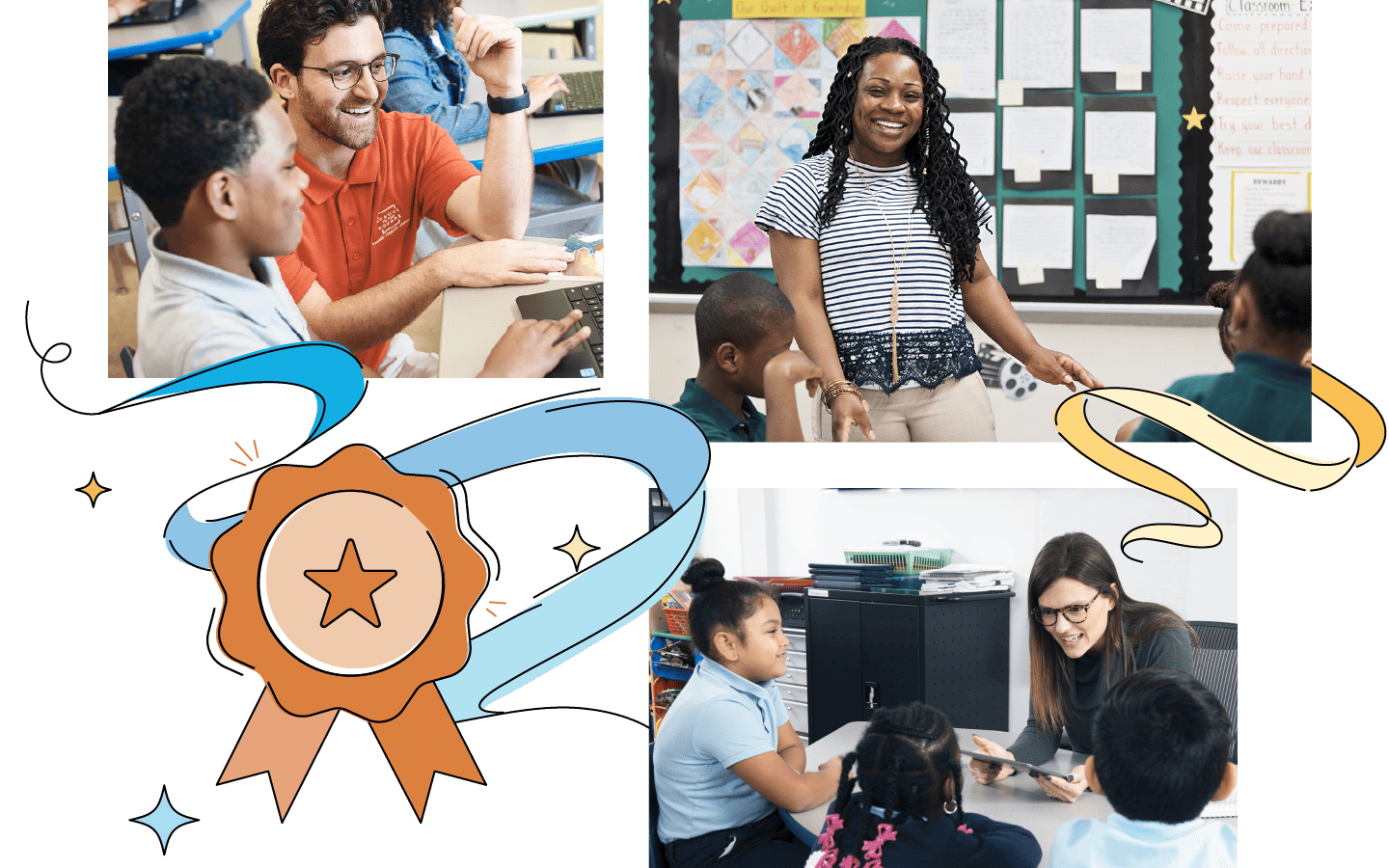 If you're reading this, someone taught you to read! You might remember learning your letters with a standout teacher, or simply curling up with a loved one to point out pictures and sound out words.
No matter who stands out to you, it takes a constellation of people to help children learn to read—both inside classrooms and beyond, and from district leadership to student families.
It also takes science: specifically, the science of teaching reading.
And we want to celebrate Science of Reading stars!
That's why we created the Science of Reading Star Awards. Read on for more information about them, including how to nominate someone for the  2023 Awards. (If you're already ready to nominate a star in your community, go right ahead!)
Reading educator awards for teachers who shine.
We launched this awards program in 2021—a year when schools, educators, and students were still working to bounce back from pandemic challenges and into a new normal. Even then, educators drove change, leading their school communities on a journey to the Science of Reading.
Our inaugural award program honored educators who championed and advocated for the Science of Reading in their classrooms, schools, or districts.
They generated buy-in. They inspired their peers and students. They successfully brought research-based instruction, phonics instruction, and foundational literacy skills into their approaches—and had remarkable gains to show for it.
Our 2021 awards, both finalists and winners, celebrated:
Teachers who directly impacted their students and served as role models for their colleagues by applying the Science of Reading.
Winner: Anila Nayak, instructional coach and reading intervention teacher, Los Angeles Unified School District, California.
She says: "The Science of Reading is becoming my North Star because it's guiding me to give the best that research has shown for my students."
Principals who have supervised the successful shift to the Science of Reading in many classrooms across several grades.
Winner: Cathy Dorbish, principal, Austintown Elementary School, Ohio
She says: "We know our kids come from all different backgrounds, different opportunities, and parents who read or don't. By teaching them in this manner, we're leveling the playing field. Those kids who may be economically disadvantaged, [but] they're going to be readers just like the kids whose parents bought them 100,000 books."
District leaders who have driven or are driving change using the Science of Reading.
Winner: Alli Rice, elementary ELA lead, Kansas City, Kansas Public Schools
She says: "Teachers are saying things like 'I never really thought my kids could have a discussion about the Renaissance during language arts class, but they are doing it.'"
Winner: Brittney Bills, curriculum coordinator, Grand Island Public Schools, Nebraska
She says: "I believe the Science of Reading is about hope. Knowing 95% of students are cognitively able to read at grade level with the right explicit instruction was empowering for me and the teachers I support."
Nominate a Science of Reading star!
Inspired? Now think of the educators in your world—especially those devoted to literacy. Do you know someone who has transformed their classroom and empowered their students with the Science of Reading? What about someone who's gone above and beyond core instruction based in the Science of Reading to apply these evidence-based practices in less traditional ways in areas like assessment, intervention, biliteracy, and beyond? (And yes, this person might be you!) We also have new categories this year, to honor both the traditional, and less traditional, Science of Reading champions!
Submit your nomination for the 2023 Science of Reading Star Awards by February 28!
All award winners will receive:
A free professional development session with Susan Lambert, host of Science of Reading: The Podcast.
A library of Science of Reading books to guide their journey.
A subscription to The Reading League Journal.
A spotlight on an episode of Science of Reading: The Podcast.
The Grand Prize winner will receive full conference registration and associated travel costs to Big Sky Literacy Summit in Big Sky, Montana, Sept. 2023 (dates forthcoming).
Learn more

To hear more from the 2021 winners, you can watch our Amplify Science of Reading Star Award Winners panel, now available as an on-demand webinar, or tune into Science of Reading: The Podcast to hear their conversations with host Susan Lambert.
Their stories and perspectives may help you discover how you can drive change in your classroom, school, and district with the Science of Reading!