Welcome to Amplify CKLA!
—
Amplify Core Knowledge Language Arts (CKLA) is a cutting-edge and effective core ELA program for students in grades K–5. It was developed in partnership with the Core Knowledge Foundation, features proven evidence-based instructional practices, and was specifically designed to help teachers implement Science of Reading principles.
Note: We're continually adding information to this site, including specific details regarding our alignment with your non-negotiables. Keep checking back with us between now and April 20, 2023.
Getting Started
On this site, you'll find a variety of resources designed to support your review and evaluation of the program. Before you dive in, watch the Orientation Overview and Program Overview videos below to learn about CKLA's alignment to CCSD's ELA adoption requirements, as well as where to find key program resources.
[Video] Orientation Overview
[Video] Program Overview
In the video below, learn about CKLA's structure and materials, as well the research behind the curriculum.
[Video] Pedagogical Overview with Simple View of Reading
In the video below, Amplify's Chief Academic Officer Susan Lambert shares the big picture of CKLA, and explains why it was created and the impact it's making across the country. Below are a few portions of the video that you may find particularly helpful as you conduct your review.
0-1:00 Why CKLA?
1:00-4:40 How CKLA was built on the Simple View of Reading
4:40-8:00 How to review the CKLA Components
8:00-end Teacher Testimonial
[Features] Supporting the Simple View of Reading
Built on the Science of Reading
Explicit systematic skills instruction
Coherent knowledge instruction
Easy-to-Use Materials
Amplify CKLA offers a number of digital and multimedia resources to support instruction and enhance the teacher and student experience.
Amplify CKLA Digital Experience Site: All teacher and student materials are posted on this site for planning and information purposes, including Teacher Guides, Readers, Activity Books, Ancillary Materials, videos, additional resources, and links to other useful sites, such as the Professional Learning site.
The Professional Learning Site: This site includes training materials, best practices, and other resources to develop program expertise. Access professional development anywhere, anytime.
Intervention Toolkit: The Intervention Toolkit provides easy-to use resources to assist teachers in filling gaps in students' foundational skills. Teachers will find hundreds of activities to support phonics, fluency, comprehension, handwriting, and other key skills.
The Science of Reading: The Podcast: Hosted by Susan Lambert, The Podcast delivers the latest insights from researchers and practitioners in early reading. Each episode takes a conversational approach and explores a timely topic related to the Science of Reading.
In addition to the videos below, our CKLA Components Guide can be a helpful tool as you explore the materials provided within your sample tubs.
[Video] Physical Materials Walkthrough
As you explore your physical samples, the material walkthrough video below can be a helpful resource. In particular, we suggest watching the following portions of the video.
0-4:38 CKLA components for K–2
4:38-7:00 CKLA components for 3–5
7-7:30 CKLA Program Guide
10:12-13:20 CKLA's Teacher Resource Site
Note: The below video covers both our K-5 program (Amplify CKLA) as well as our 6-8 program (Amplify ELA).
[Video] Digital Materials Walkthrough
In the video below, learn about CKLA's digital tools for teachers and students across both classroom and asynchronous environments.
As you prepare to explore our digital platform, be sure to watch and refer to the video below.
Diverse Texts
In Amplify CKLA, texts serve a variety of purposes, from building background knowledge, vocabulary, and comprehension to building decoding and fluency skills.
In grades K–2, instruction is segmented between two strands: Knowledge and Skills.
Reading within the Knowledge Strand is centered around authentic read-alouds and trade books that are intentionally sequenced to build content knowledge and vocabulary in specific domain topics around literature, history, science, and the arts. Because research shows that students' listening comprehension outpaces their reading comprehension until their early teens, Amplify CKLA strategically uses read-aloud text in this strand, allowing students to focus their cognitive energy on gaining meaning from the words and better understanding from the images.
Reading within the Skills Strand centers around carefully crafted Student Readers that teach students how to read. Structured as chapter books, these readers are 100% decodable and were developed to align with Amplify CKLA's scope and sequence for phonics, directly connecting instruction to student practice in connected texts. Students use the Readers to practice decoding, fluency, and comprehension during shared reading lessons, targeted close reading sessions, in small groups, and independently.
In grades 3–5, integrated units bring the Skills and Knowledge strands together as students become increasingly automatic and strategic in their word recognition and language comprehension skills. Student reading and comprehension activities involve a variety of reading materials:
Authentic Read-Alouds and trade books ensure students encounter a variety of perspectives as they use these complex text to increase their knowledge while practicing vocabulary and listening comprehension skills.
Student Readers connect to each theme and are designed to increase in complexity over time, providing a continual challenge as students' reading and listening comprehension skills develop and strengthen throughout the year.
Novel Guides provide teachers a flexible option for extending authentic reading and text-based activities in the classroom using award-winning and acclaimed novels.
ReadWorks articles give students access to additional high-quality texts aligned to both Amplify CKLA knowledge topics and the topics outlined in the Common Core State Standards.
Decodable Readers at Grades K–2
Our Decodable Readers are designed to progress in skills, mirroring the scope and sequence of instruction, which allows students to immediately apply what they are learning to 100% decodable text. More specifically, our decodables:
Are uniquely designed to provide intensive practice with the CKLA code while students read compelling and engaging stories and informational texts for the first time.
Gradually introduce students to "tricky" spelling concepts, such as different sounds that use the same letter code.
Increase in text complexity (i.e., content, length, and vocabulary) as students progress through the grades.
Include fiction and nonfiction text.
Are available as ebooks and audiobooks.
Below, you can see how students grow from year-to-year across grades K–2.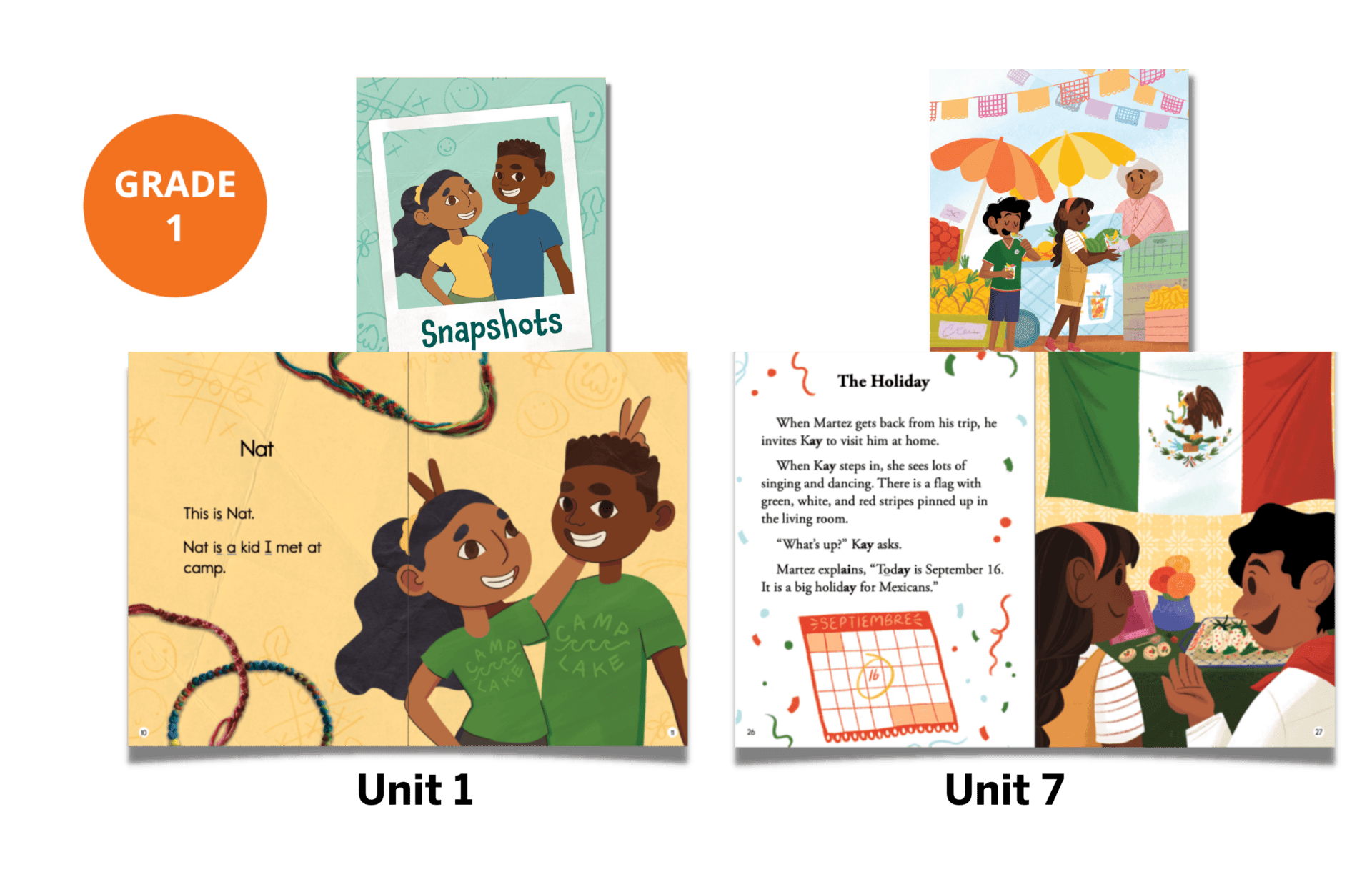 Student Readers at Grades 3–5
By grades 3–5, students have mastered the basics of decoding and are hungry to use what they've learned to reach out to the world. Although Read-Alouds remain an important part of lessons, students are also encouraged to practice independent reading starting in grade 3 with the support of carefully crafted Student Readers. These readers are chock-full of various text types, cultural stories, and a blend of fiction and nonfiction texts that are tied to and support the overarching theme of the unit.
Read-alouds
Authentic literature exposes students to a variety of text types and perspectives to deepen their knowledge of fascinating topics in social studies, science, literature, and the arts. Authentic texts support text-to-self, text-to-world, and text-to-text connections for readers.
Trade books
Our optional Trade Book Collection (and suggested list of additional trade books) align with our grade-level topics, and extend the knowledge students are learning through an authentic text.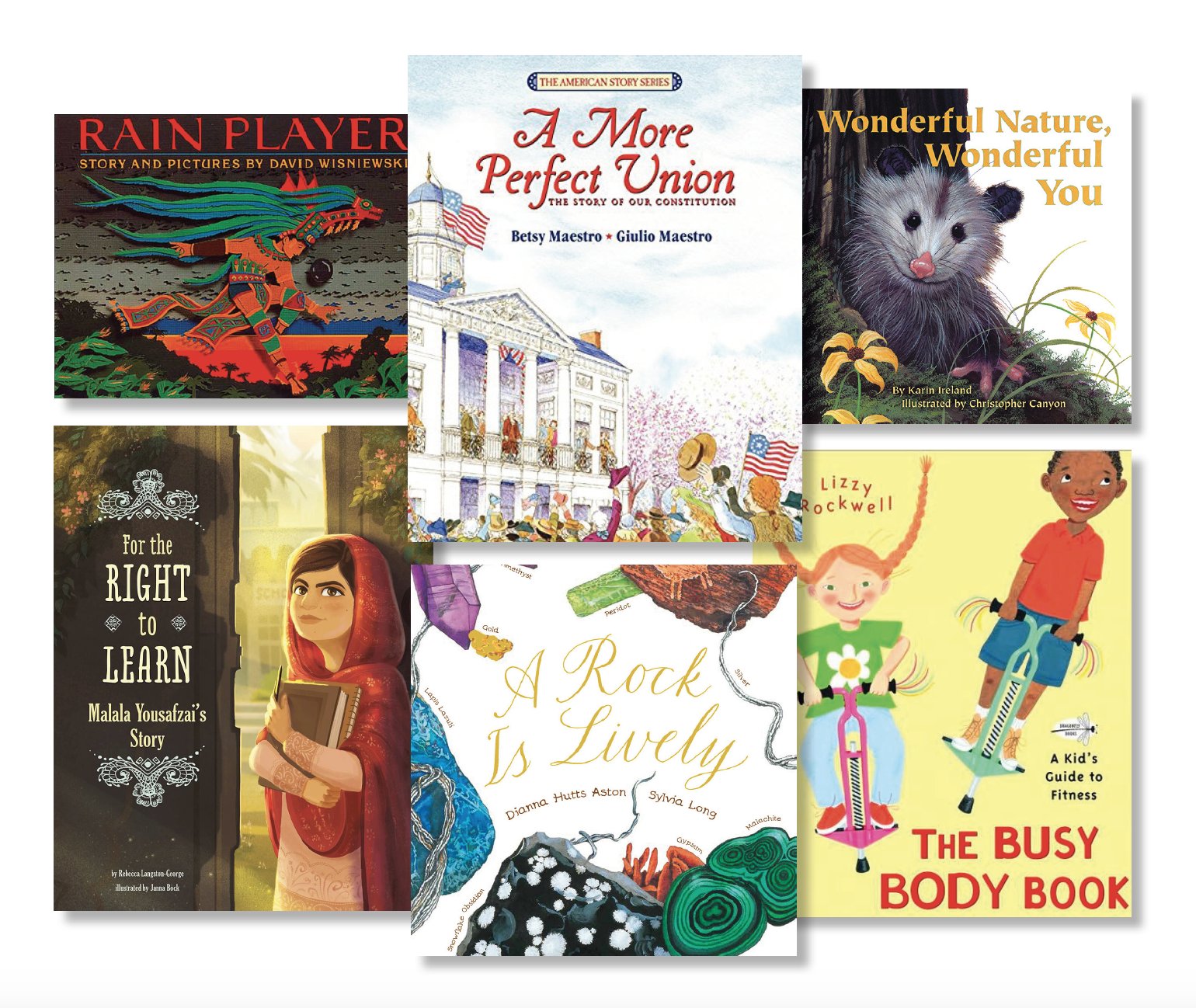 Novel Guides
Novel Guides bring students beyond the CKLA curriculum. We provide fifteen full days of instruction on contemporary trade books, as well as writing prompts that help students navigate the authentic literature they love.
ReadWorks
Amplify CKLA and ReadWorks® have partnered to deliver high-quality texts curated to support the Amplify CKLA Knowledge Sequence and to extend student learning. Texts include high-interest nonfiction articles in topics in social studies, science, literature, and the arts. These texts are accompanied by vocabulary supports and standards-aligned formative assessment opportunities. Teachers can monitor their students' progress using the ReadWorks reporting features.
Reading resources
The following resources may be helpful as you explore our approach to reading and the role that diverse texts play in the program.
Writing
CKLA is rich with opportunities for students to develop, practice, and hone their writing skills. While the shape of writing instruction looks slightly different at each grade level, a commonality across all grades K–5 is that writing isn't taught in isolation. Rather, it's embedded within the context of each unit, and is connected to what students read.
At Grades K–2, writing takes place in both the Skills and Knowledge strands.
Explicit instruction in writing skills (such as sentence structure) and handwriting takes place in the Skills Strand, and is tied to the decodable readers used within each unit.
Extended writing and writing process activities take place in the Knowledge Strand.
At Grades 3–5, writing is embedded through the integrated units.
Across each unit, students work on smaller, more discrete writing skills alongside their Student Reader. These skills eventually culminate at the end of each unit in the form of a writing project.
In 4th and 5th grades, we expand writing even further with the addition of Poetry units.
Writing and text-dependent questions
The overwhelming majority of questions, tasks, and assignments in CKLA materials are text-dependent. Every CKLA unit and domain is based around key texts that are either read aloud, with a peer, or independently. These readings are followed by class discussions where students are expected to refer to these texts when answering literal, inferential, and evaluative questions, both orally during class discussions and through written responses.
Literal questions assess students' recall of key details from the text. These are text-dependent questions that require students to paraphrase and/or refer back to the portion of the text where the specific answer is provided.
Inferential questions ask students to infer information from the text and to think critically. These text-dependent questions require students to summarize and/or reference the portions of the text that lead to and support the inference they are making.
Evaluative questions ask students to build on what they have learned from the text using analytical and application skills, often to form an opinion or make a judgment. These questions require students to paraphrase and/or cite the textual evidence that substantiates their argument or opinion.
In addition, students are often asked to generate additional questions based on the texts. Students further demonstrate understanding in writing by applying what they have learned and providing evidence from the text to back up their answers and opinions. For example, Grade 3 students learning about sea exploration write a paragraph from the perspective of a sailor on John Cabot's ship, stating their opinion of whether the hardships they experienced are worth the adventure or glory and citing examples from the text to support their response. Grade 5 students studying the Adventures of Don Quixote write a four-paragraph persuasive essay arguing whether they believe Don Quixote's good intentions justify his often calamitous actions, using reasons and evidence from the text to support their claims.
Writing with authentic literature
Novel Guides are designed around authentic texts students love. They not only help students foster a love for reading, they also present authentic opportunities for students to express themselves through writing. Novel Guides provide daily text-based writing and discussion through five activity types:
Ask contains questions for discussion, reflection, or brief written responses. These questions cover information all students should understand as they read the text.
Explore prompts offer brief research opportunities centered around items mentioned in the text.
Imagine activities promote creativity and further reflection.
Observe items ask students to take notes or make other kinds of observations about what they have read.
Understand questions push students to explore connections to the text.
Writing and enrichment
Writing tasks throughout the program provide almost limitless opportunities for extension. Feedback from the teacher, peers, and self-reflection provide students opportunities to strengthen their writing. For example, advanced students can be encouraged to:
Use more complex and unusual descriptive vocabulary.
Incorporate figurative language into their writing.
Write multi-clause sentences with more complex joining words.
Create longer or richer opinion, explanatory, and narrative pieces.
Evaluate the use of informational textual characteristics and use in their own writing (e.g., headers, bullets).
Writing resources
The following resources may be helpful as you explore our approach to writing and how writing develops across the program.
Explore as a teacher
Before logging in, watch this brief video on navigating the CKLA Teacher Resource Site.
Ready to explore as a teacher? Follow these instructions:
Click the CKLA Teacher Resource Site button below.
Select Log in with Amplify.
Enter the username: t1.ccsd-k5-ckla@demo.tryamplify.net
Enter the password: Amplify1-ccsd-k5-ckla
Click the CKLA Teacher Resource icon
Select a grade level
Explore as a student
Before logging in, watch this brief video on navigating the CKLA Student Hub.
Ready to explore as a student? Follow these instructions:
Click the CKLA Teacher Resource Site button below.
Select Log in with Amplify.
Enter the username: s1.ccsd-k5-ckla@demo.tryamplify.net
Enter the password: Amplify1-ccsd-k5-ckla
Click the CKLA Teacher Resource icon
Select a grade level
Check out these additional resources
Nevada submission resources:
CKLA review resources: