Welcome, Amplify CKLA families!
—
We're excited to welcome you and your student to the Amplify CKLA program for the new school year, and to provide your student with exceptional learning opportunities through our program. We've assembled the following resources and guides to help you support your student and enable them to have the most productive experience with our platform throughout the year.
What is Amplify CKLA?
Amplify Core Knowledge Language Arts (CKLA) is a language arts program for Grades PreK–5 that combines a multi-sensory approach to phonics with rich texts carefully sequenced to build content knowledge—so that students learn to read and read to learn at the same time. 
Every day in Grades PreK–2, students complete one full lesson that builds foundational reading skills, as well as one full lesson that builds background knowledge. In Grades 3–5, students start to master the skills of reading, further opening up their worlds.
Getting started
How you can support your student at home:
If possible, read with your student daily; even 15 minutes of reading together each day can create a huge impact.

You can read sections of the text aloud together. If your student struggles, you might try reading the text to them with expression, and then have them read it aloud back to you.

For additional practice, watch the recorded read-alouds with your K–2 student or have your Grade 3–5 student use the Vocab App.

Find moments to discuss what they are reading and discovering. Examples of questions you could ask:

What stood out to you from what you read today? Were any sentences or words confusing? What was your

takeaway

from the author's passage? What do you think the writer was trying to communicate? Do you agree with the writer's ideas or descriptions? What connections can you make between what you are reading and your own life or other issues?

Listen to your student read their written responses or have them share with a friend over video chat.

Review this

Protecting Kids Online

article

by the Federal Trade Commission addressing digital safety.
Logging in
Instructions for students accessing the Amplify CKLA Hub:
Once a student logs in, the system will automatically show only grade-specific content.
K–2 students
K–2 students will be able to log in with Shared Credentials created and provided by the teacher.
On each student device, navigate to learning.amplify.com
Click "Log in" and enter shared login credentials or click "Scan QR code" for QR code login. Students will be directed to Student Home, where they'll be able to change their avatar and click on a mood emoji of the day! On Student Home, there will be an easy redirect link to the Student Hub.
Note: Shared student logins provide Amplify CKLA Hub K–2 students and students who aren't yet enrolled by their school or district a way to access Amplify's digital programs. There is one shared student login for each program.
3–5 students
Go to learning.amplify.com
Click "Log in" and enter shared login credentials or click "Scan QR code" for QR code login. Students will be directed to Student Home, where they'll be able to change their avatar and click on a mood emoji of the day! On Student Home, there will be an easy redirect link to the Student Hub.
Note: Students should be enrolled and have an appropriate license.
Materials overview
Your student can access Amplify CKLA's digital curriculum at home if they have internet access. Their teacher will provide login information.
Student Readers
Student Readers are uniquely designed to provide students with intensive practice while reading simple but authentic stories.
In grades K-2, these readers are chapter books that allow students to practice just-learned sound-spellings within an authentic reading experience that incorporates compelling plots and interesting characters. With diverse characters, settings, and illustrations, K–2 readers aptly showcase CKLA content! In Grades 3–5, readers develop close reading and other literacy skills through a selection of diverse, content-rich literary and informational texts.
Student Activity Books
Part of the daily lessons, these activity pages ask students to respond to the text they've read and apply skills and knowledge. 
CKLA Hub for students
Students access and engage with multimedia resources on the CKLA Hub. Students can use these digital resources independently from anywhere, taking full advantage of the instructional multimedia experiences that Amplify CKLA has to offer. It's compatible with laptops, Chromebooks, tablets, and desktops—we've even optimized it for mobile devices.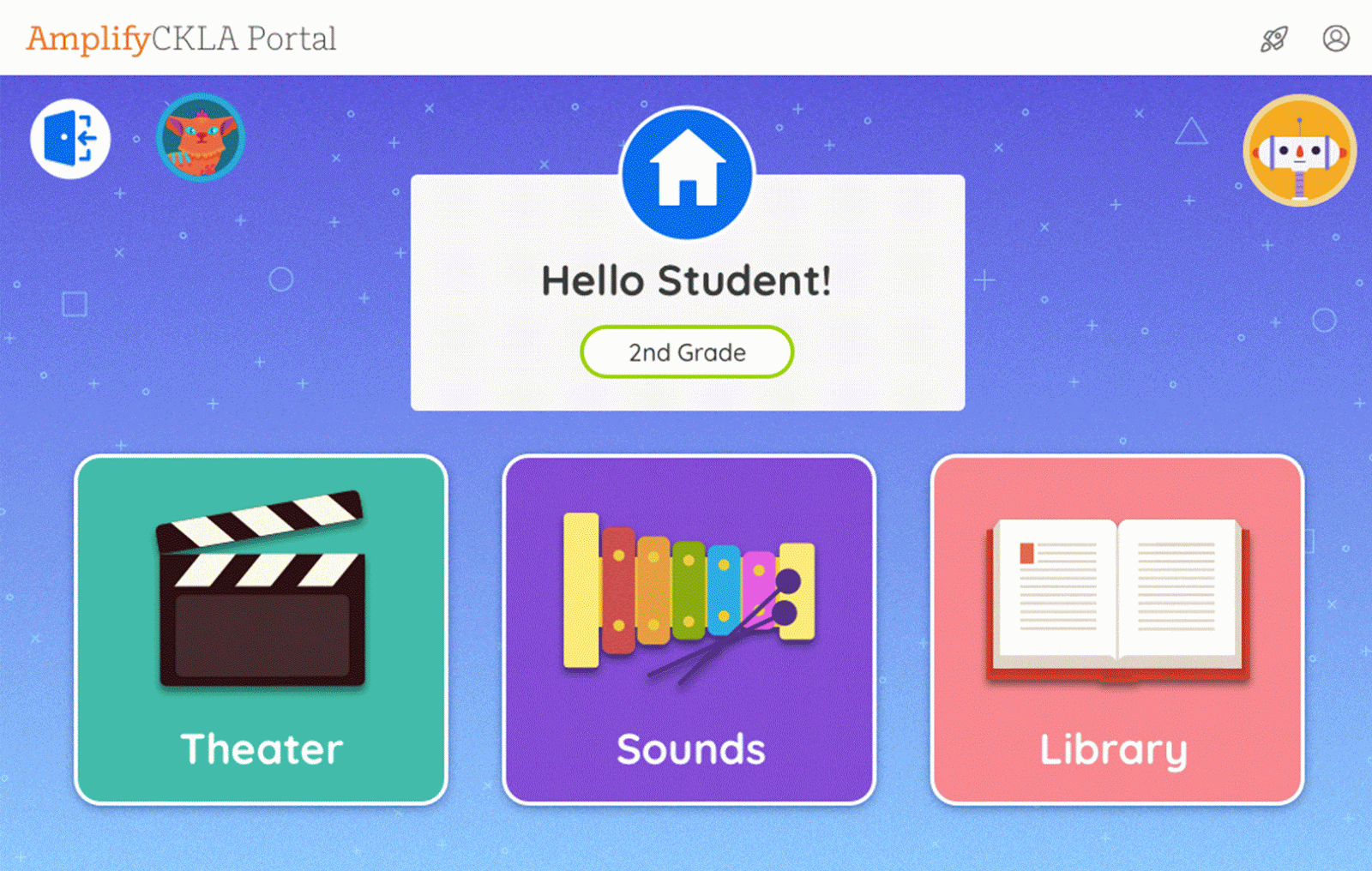 Knowledge Builder videos for Grades K–2
Each Knowledge Domain starts with a Knowledge Builder video: a short, fun, animated story that enriches the lesson and motivates students with new characters, places, and concepts.
Sound Library for Grades K–2
The Sound Library uses audio sounds, catchy songs, and animated articulation videos to help students learn and master sounds.
Vocab App for Grades 3–5
The Vocab App is designed for independent practice with vocabulary. Students can use the Vocab App for game-like activities that challenge them.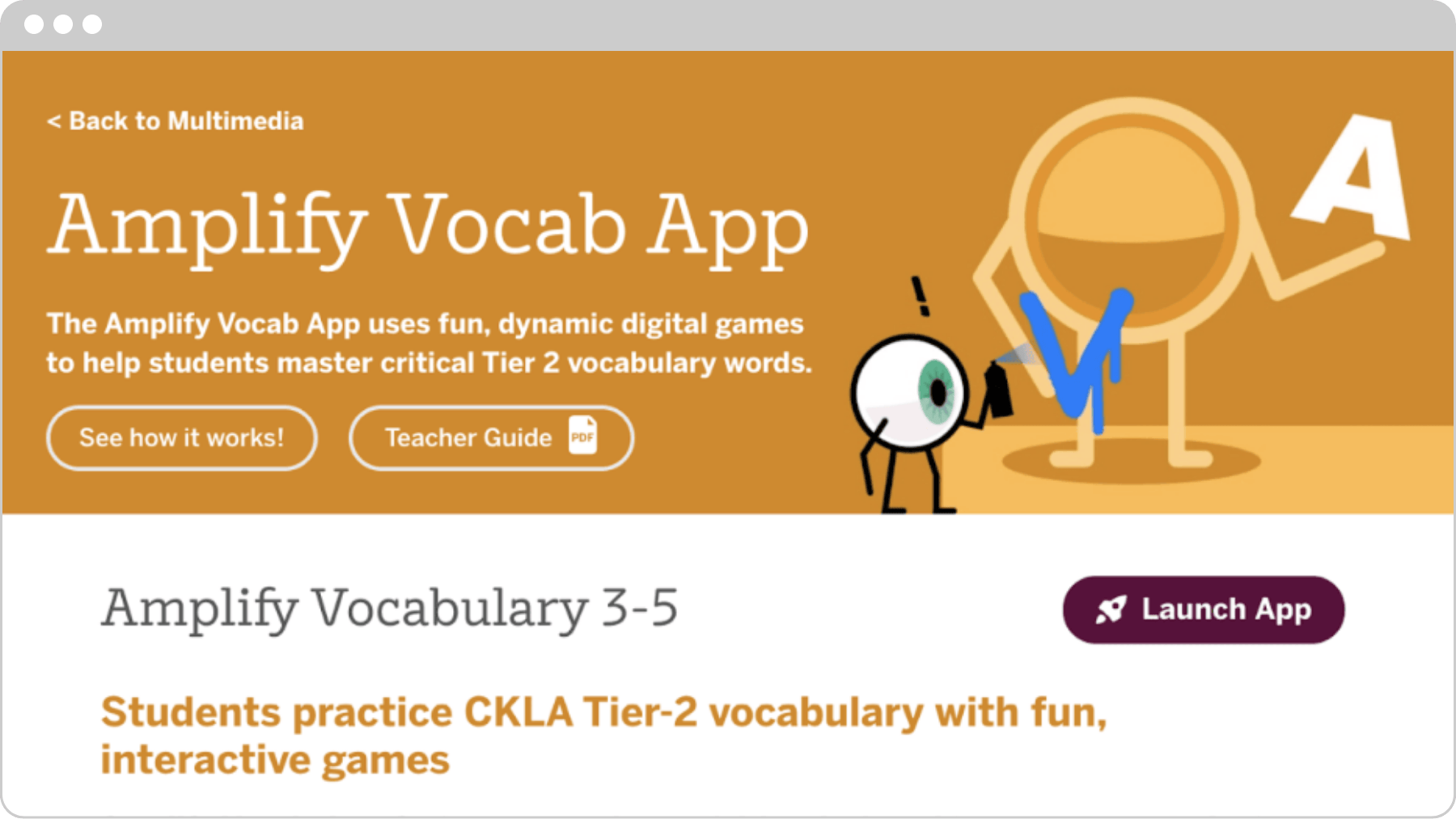 Recorded daily read-alouds
Teachers and students will have access to video recordings of all K–2 Knowledge read-alouds with pictures from the Flip Books.
Quests
Each of the grade levels in Grades 3–5 contain a Core Quest. In these special units, all the normal rules of the classroom change, and students engage with language in surprising new ways. For example, in Grade 5, they learn to love the dense Shakespearian language of "A Midsummer Night's Dream" through imagery, close reading, and performance.
Unit overviews
Below are quick overviews of the units your student will be working through in their grade throughout the year. Next to each unit are downloadable guides which provide a more in-depth look at the content covered and how you can help your student advance their understanding of the topics.
Contact us
We're here to help you!
Have a question about Amplify CKLA? 
Visit our help library to search for articles with answers to your program questions. 
For additional curriculum support, contact your student's teacher.