Exciting updates are coming for Amplify ELA!
—
Amplify ELA is launching several new and exciting features as educators return to school this year. These updates will streamline the program, enhance digital experiences, and support teachers' efforts to deliver the rigorous and riveting language arts curriculum students deserve.
Unified Educator Home and navigation
Amplify ELA educators will have Homes as their landing space after logging into the program. Educator Home will allow easy navigation to what educators need each day. Teachers will see targeted recommendations and their class activity to help them make decisions about where to go and what to do within Amplify ELA. On Educator Home, administrators will have direct access to all the products that their school/district uses, Admin Portal to set up their districts/schools, and Admin Reports to view data. 
Canvas integration
All Amplify ELA users who use Canvas will have the option to set up an integration with us so that teachers can send grades directly from Classwork to their gradebooks in Canvas with the push of a button! This exciting new update saves teachers time and helps them avoid manual work.
Updated reporting features
We're making multiple improvements to the tools and functionality used in Amplify ELA data and reporting:
Assessment reports will now show scores color-coded by performance level, making it easier to interpret assessment scores.

New Exit Ticket reports allow teachers to track Exit Ticket data across units.

Teachers will be able to send students their Automated Writing Evaluation (AWE) scores.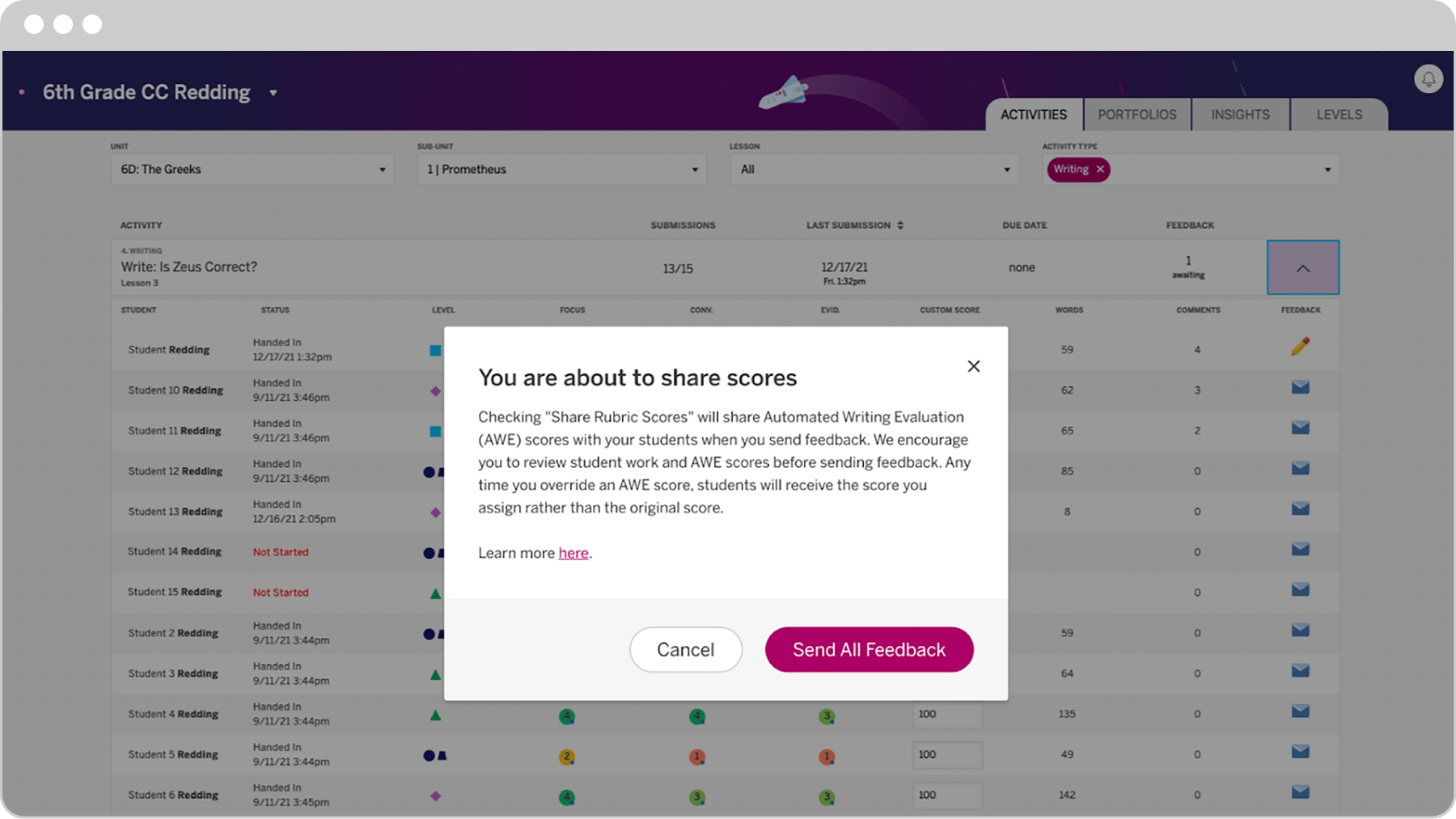 Customizable Amplify Library book list
District administrators can now choose which of the 700+ titles in the Amplify digital library students will have access to in their book lists. They will also have access to Amplify's Independent Reading Guide, a document that gives teachers strategies for implementing independent reading in the classroom. It also provides tips for modifying independent reading for multilingual learners and students reading below grade level, while going over various instructional activities. 
New ways to engage with Amplify ELA
Two new Text Analysis Modules on rhetorical appeals and logical reasoning are coming to your Amplify ELA experience! Designed to be used in any grade, the Text Analysis Modules are aligned to key concepts in Amplify ELA lessons, including theme, structure, rhetoric, literary elements, narrative point of view, and central idea.
Additionally, Flex Days will now feature a Conversation Connections activity! Conversation Connections provide structured opportunities for students, particularly English language learners, to practice essential speaking and listening skills.
Improved Vocab App experience
The Vocab App now features upgraded reporting UI, redesigned activity visuals with improved navigation, and read-aloud functionality.
Teachers can also access a new printable vocabulary resource to target morphology.
One Amplify sign-on
For the 2023 school year: one central location to access Amplify ELA and all your Amplify programs. Simply visit and bookmark learning.amplify.com to log in!